Super Lore Boys Season Two
Riz0ne  |  Super Lore Boys  |  Brand Designer, Production Coordinator & Video Editor  |  2021-2022
After the completion of season one, Riz0ne got right back to planning episodes for Season Two. This time around, he wanted to highlight the lost stories from the start of the world's first esport. Themed "New Legacy", season two captures the stories from the earliest days of Street Fighter competition to modern day champions who are etching their names in the future's history books. Season two launched the podcast in early 2021 and wrapping up in mid-2022.
For season two, I knew I wanted to solidify the framework of the podcast while trying to tie the elements together more, so they didn't feel separately designed. The framework consisted of a 4-column layout, with the left-most column holding the logo and episode info and the right-most column holding the stream chat and background music. The middle two columns were used for the guest card, and this time, I decided to go big. In the end, the new coat of paint exemplifies how it can drastically change the feeling the show.
In this clip, the origin of the ubiquitous FGC term "Meaty" is unknown even to FGC legend James Chen (episode 1). It wasn't until Insomniac (episode 5) brought to light the true origins and the key figures in the community from back in the day. It is the perfect showcase of the interconnectedness of the guests and why the preservation of FGC history is so valuable.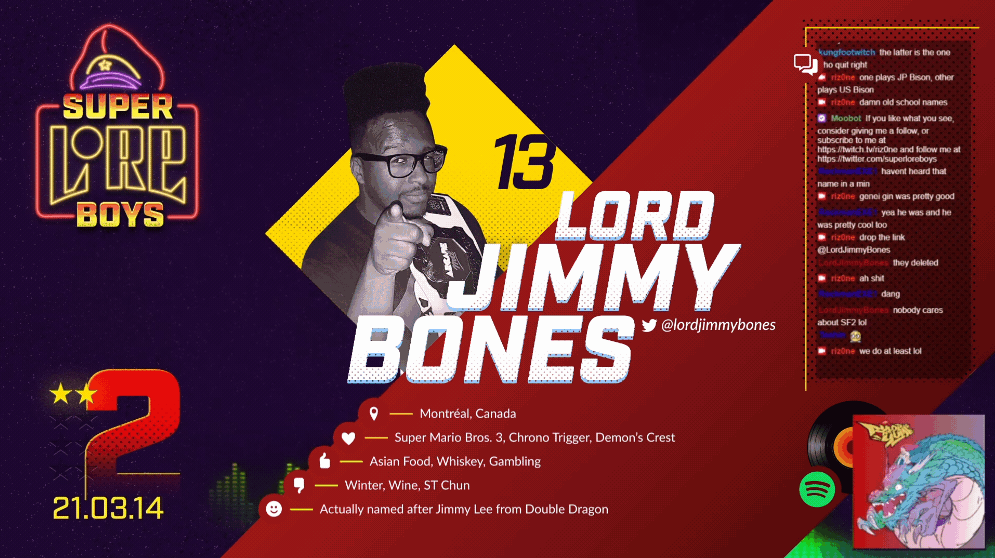 For season two's visualizer, we went back to using 
Plane9
. I was really drawn to the original test with the radial visualizer due to how well it framed the guest's portrait. However, we need it tone it down quite a bit so that it complimented the design instead of overpowered it and because it was difficult to manipulate into something more subtle, we opted to go for a more traditional stereo waveform.
The end credits were changed from the first episode. The original vertical scroll didn't signify enough of a visual change to indicate to viewers that the episode had ended. The horizontal scroll was also easier to template than the vertical, as it could accommodate longer names and urls better than the vertical option.
Each episode had a looping teaser video that we would post on social media ahead of the air date to promote the live stream. The file size of these videos was very important, as keeping them under 8mb meant that fans could share the video file directly to each other on Discord.
A new podcast required a new YouTube channel and with it, branded assets, like a channel avatar, a channel banner, episode thumbnails and the video end slate. The first season featured the main characters of each guests in their custom colors. This would eventually change to the photos of each guest, along with the "Super Street Fighter II Turbo Podcast" text being updated as well.